By Elly Earls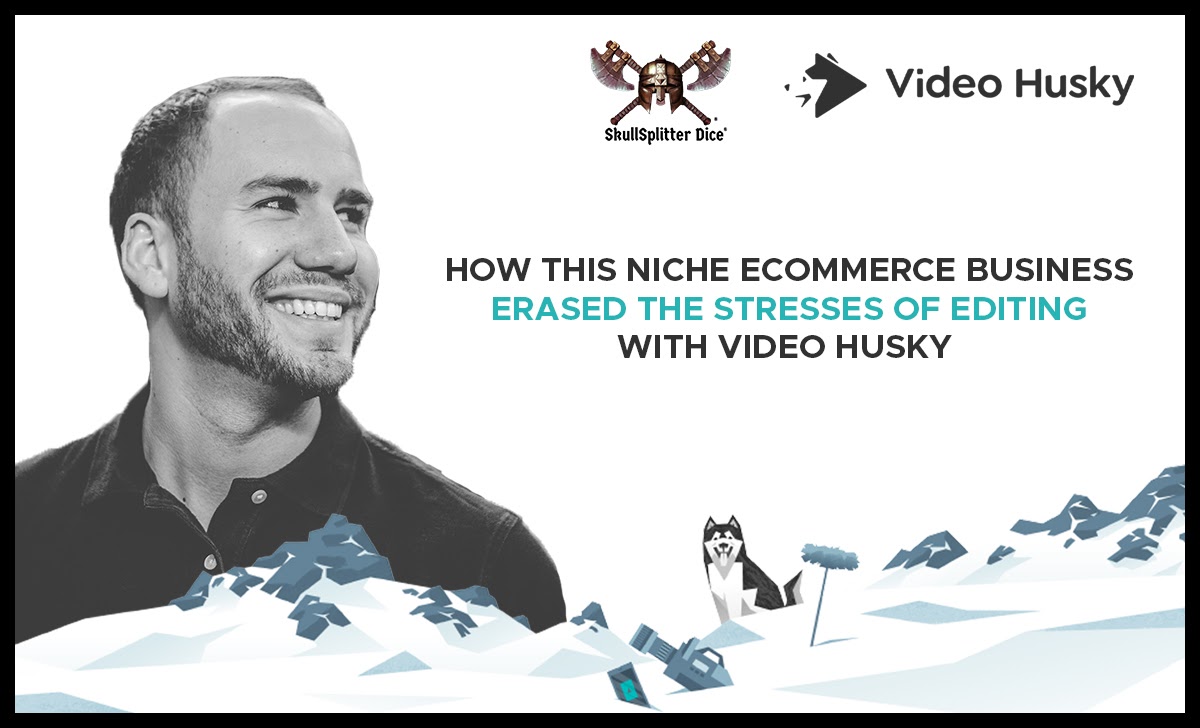 "I can go and do everything else I need to get done without worrying about the videos."

Luke Filloramo, Marketing Manager at SkullSplitter Dice
As an eCommerce business, SkullSplitter Dice is about as niche as they come. Born out of founder Ted Cory's passion for Dungeons and Dragons, they sell cast-iron dice sets to role-playing game enthusiasts.
Ted first decided to turn his passion into profit five years ago, selling only through Amazon. Over time, he added other platforms like Shopify, which now yields most of their profits. SkullSplitter also sells wholesale to smaller retailers like hobby shops.
When Ted started the business, Skullsplitter enjoyed a strong return on its ad spend. But as competition has grown, social media advertising has become much more expensive. This has lead Ted and his team to focus more on SEO content.
After initially creating a large library of blog content, they set their sights on video. But, with no experience in this area, they knew they'd need outside help.
They tried searching for freelancers, but only received generic responses to their inquiries. This made them worry about how long the onboarding process would take.
So instead they turned to Video Husky. And since, they've steadily grown their YouTube Channel. Over their first six months as a customer, they've amassed the following stats:
55,000 views
203,600 impressions
649 new subscribers
1,400 watch time hours
In this article, you'll learn how Video Husky helped SkullSplitter scale production for their channel. You'll also hear why SkullSplitter now has the confidence to rarely worry about editing.
---
Do you want to create more videos without sacrificing quality? Then, consider Video Husky. We provide you access to a dedicated team of talented editors who can help.
Try us risk-free with our 30-day, action-based money-back guarantee. Click the button below to schedule a free consultation call today!
Book a free consulting call!
---
Creating Content to Market Their Product
SEO plays an important role in driving the visibility of SkullSplitter's brand. Their fanbase is particularly interested in RPG guides and character lists.
Keen to capitalize, Luke Filloramo, who runs marketing for SkullSplitter, hired a writer who plays Dungeons and Dragons himself. SkullSplitter's search traffic on Google has almost tripled since. The next logical step, he thought, was to repurpose these posts as videos.
After a valiant attempt at starring and producing a video himself, Ted, meanwhile, found he didn't have the time or inclination to edit. To fix this he did two things:
Found someone else more comfortable with being on screen.
Enlisted Video Husky to do the hard work of editing.
He hasn't created a video since.
Now his creator shoots the raw footage then pings it over to Video Husky. As a result, SkullSplitter receives two to three finished videos every week. They have a month's worth of videos queued up, which they post on Tuesdays and Fridays.
"Two videos a week are enough for what we're trying to do," said Filloramo.
Expectations about Video Husky Coming In
When Filloramo started working with Video Husky, his main concern was with quality. Would they deliver a result that was worth the investment?
"We wanted to know how the video editing was going to be out of the box and what measures needed to be communicated so we could get the best possible result," he said.
At the same time, he was well aware that anything would be better than doing it themselves.
"Our end goal is not to have the number one YouTube channel for Dungeons and Dragons. There are other guys out there that are doing it full time and they're really good at it," said Filloramo. "It's really more of an SEO play and to supplement our brand."
To achieve that, Skullsplitter wasn't looking to create cinematic masterpieces. He admits their videos don't pack much entertainment value. Rather, they're 10-minute morsels that are more educational instead.
"They're structured like our blog posts are written so we're looking at it very much as a process or a machine," Filloramo said.
How Video Husky Gave Skullsplitter Confidence To Not Worry About Video Editing
Video Husky has delivered exactly what they were looking for. They like that Video Husky shows them the workflow of the entire video content process. It's helped them go from what was a very painful experience to one that's more streamlined.
It tags on nicely to the process they already had for creating and optimizing their blog posts for SEO. With the video in the mix, their content creation process only takes a week from start to finish.
Video Husky's transparent pricing structure has been another benefit. Since SkullSplitter knows they only need to make 2 videos a week, they know their price per video. This helps when it comes to managing the budget.
But most importantly, they know they can rely on Video Husky. He credits the smoothness of the experience largely to their project manager. Thanks to great communication, there are few interruptions or many back and forths.
"We went out and tried to find a proven, systematic solution and now we have the confidence that it's going to get done," Filloramo said. "We can throw a video in there and in a day or two, it will pop out the other end of the pipe."
---
Want to create more content but find video editing is slowing you down? Video Husky provides you access to a team of dedicated and talented editors who are ready to help.
Try us risk-free with our 30-day, action-based money-back guarantee. Click the button below to schedule a free consultation call today!
Book a free consulting call!
---