By Jon Santiago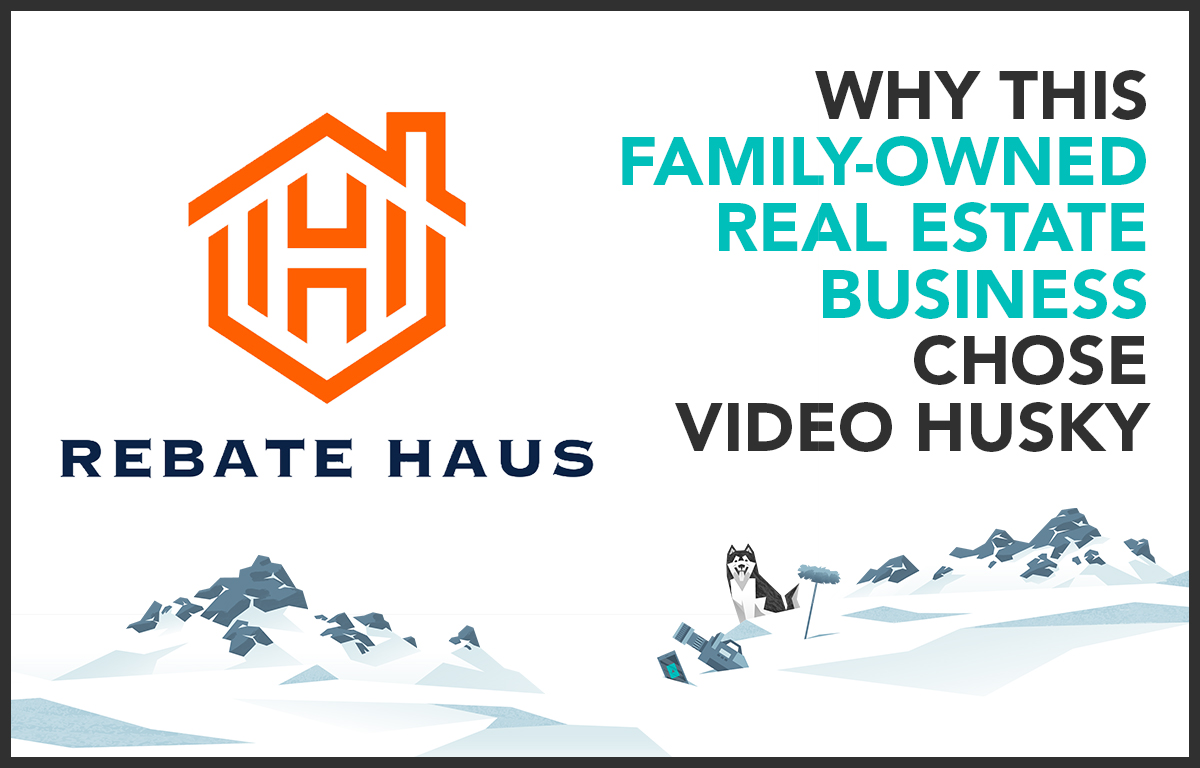 For most real estate businesses, video these days plays a crucial role in marketing strategy. But creating content on a regular basis is always one of the biggest challenges.

Especially if you're a one-man-band like Isaiah Orozco.
Isaiah is media director at RebateHaus, a real estate company that works mostly with new home builders located in New Braunfels, Texas. He's responsible for filming and producing videos for RebateHaus' growing number of listings.
With the housing market booming in Texas, Isaiah was starting to build up a serious backlog of projects that he didn't have time to edit. It was at this point that he knew he needed some help.
"I was doing virtually everything by myself," Isaiah said. "The company I work for is a very small, mom-and-pop real estate company that's growing at a very rapid pace."
That's when he decided to turn to Video Husky.

In this article, you'll learn how Video Husky has been able to help Isaiah get his video production process back on track. And you'll also find out why Isaiah has been so pleased about his experience of working with his editing team so far.
---
Video Husky provides you access to a dedicated team of talented editors who can help.
If you're not happy, we have a 30-day, action-based money-back guarantee. Click the button below to schedule a call to get started today!
Book a free consulting call!
---
Struggling to Keep Up With Demand in a Growing Real Estate Market
As a one-man-band, Isaiah is responsible for the production of RebateHaus' videos from start to finish. With real estate demand in Texas reaching all-time highs, he often finds himself filming 3 to 5 new listings every week.
It often takes Isaiah 15 to 20 minutes to film and capture footage for one of those listings. And on top of that, he spends hours in his car traveling to each property.

"Texas is very large," he said. "Especially where I'm at here in San Antonio. If you drive around the outer loop of the city, it'll take you four hours to drive around the entire thing.
"So I'm constantly driving, which takes away from that time that I'm spending on my computer actually editing projects."
But aside from travel and shooting, piecing that footage together in post-production is often Isaiah's biggest bottleneck.
Trying to build a story around those listings often takes Isaiah around 2 to 4 hours when editing himself. It isn't easy to shape raw footage of a home and interviews with clients into a compelling piece of content that attracts more business.
And it's especially challenging when editing isn't really your strong suit.
"I'm not a professional video editor," Isaiah said. "I'm great at doing all the gathering of content, but editing has definitely been one of my (weaknesses)."
What It's Like Working With Video Husky
In the spring of 2021, Isaiah got the go-ahead from his boss to sign up for an account. His initial impression of the work was one of pleasant surprise.

"I was thoroughly happy that I was able to lighten my load and get things done," Isaiah said. "The quality of work was excellent."
Finding Video Husky was a godsend for someone like Isaiah. It's been a sense of relief to partner with a company that can handle the advanced elements of editing, like adding dynamic graphics and text, that are beyond his skillset.
"When I found Video Husky I was like 'Wow, these are professional video editors that actually know video editing," he said.

Sending in a video request takes Isaiah 15 to 20 minutes, a mere fraction of the time that it takes him to edit a video on his own. And because Isaiah has worked with Video Husky for more than half a year, his style preferences have become second nature to his editor.
"He's already done so many of them for me," Isaiah said. "I'm able to just say, 'Hey, this is what I need done. These are the names. These are the titles.'"
Time Difference Isn't An Issue
All of Video Husky's editors are based in the Philippines with working hours from 9 am to 6 pm, Monday to Friday, GMT+8. That means for Isaiah they're editing his videos overnight while he sleeps.
The roughly 12-hour time difference took some getting used to for Isaiah. But overall, it hasn't affected him much since he's figured out how to integrate their hours with his schedule.

"I'll submit my jobs during the day and then usually I'll have a response before I go to bed that (the editor) got the job and (is) getting ready to work on it," Isaiah said.
With Video Husky, clients also get a project manager who helps keep the editing process organized and moving forward. For Isaiah, he appreciates that his project manager is always on top of his requests and actively communicates with him about when he can expect his drafts to be delivered.
"I usually am able to get my videos back in a good amount of time," Isaiah said.
Creating More Quality Content With Video Husky
Today, Isaiah finds himself in a much better place than he was without Video Husky.
Isaiah passes along about 60 to 70% of his video editing workload over to his editing team in the Philippines, reserving more of the time-sensitive jobs for himself. But overall, he's been more productive, creating more videos for RebateHaus than when he edited everything himself.
"I'd say I'm able to get a good three extra videos done a week because I have your guys' help," Isaiah said.
And the response internally from his team has been great, too. According to Isaiah, everyone at RebateHaus appreciates the work that their Video Husky editor has been able to accomplish.
Especially when it comes to hiding someone's discomfort of being on camera.
"We're always working with people who aren't usually on camera," he said. "So they're usually real nervous."
One of Isaiah's colleagues who hates being on camera isn't worried so much anymore about how the videos will turn up. She's learned to have faith that Video Husky will bring out the best of any footage she shoots.
"The team likes what's being put out and they've actually deleted a lot of the old stuff," Isaiah said. "If you go on our pages now, it's 90% our new stuff."
So what advice would Isaiah leave for anyone that's considering outsourcing editing over to Video Husky.

"I would tell them to do what they do," he said. "Do real estate. Don't be stuck on your computer.

"Shoot the content that you need to shoot and give it to Video Husky so that they can take care of the rest," he added.
---
Is video editing slowing you down?
Video Husky provides you access to a dedicated team of talented editors who can help.
If you're not happy, we have a 30-day, action-based money-back guarantee. Click the button below to schedule a call to get started today!
Book a free consulting call!