By Tim Wenger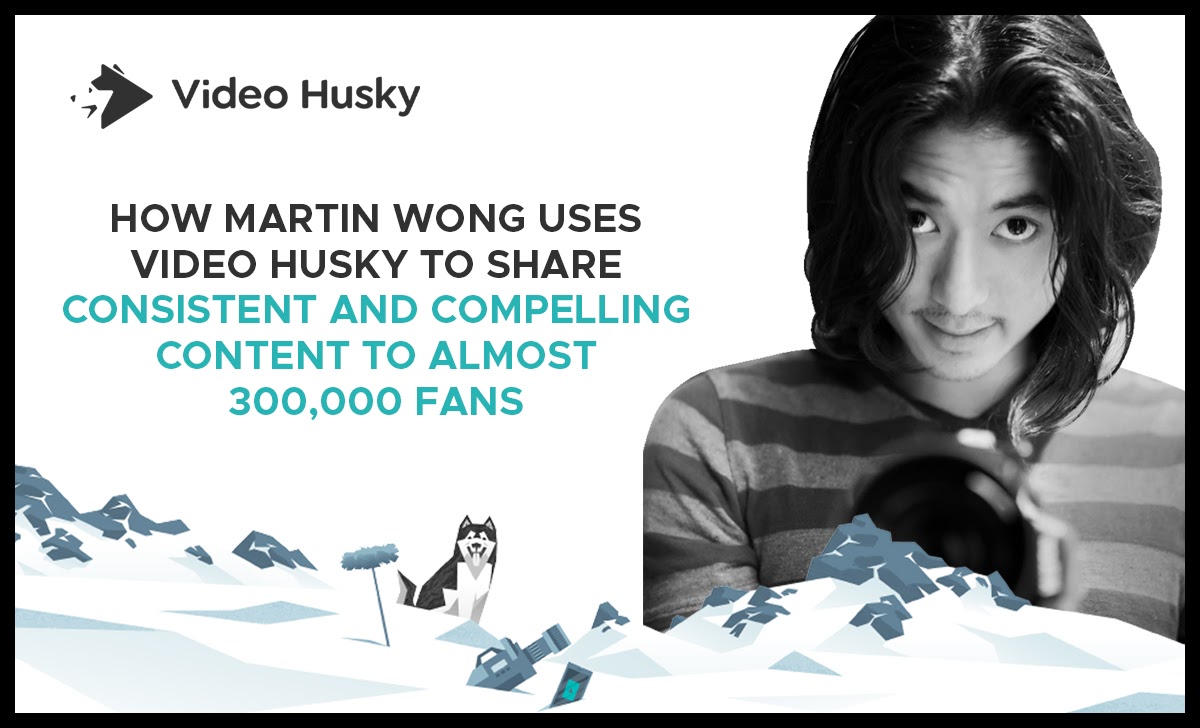 "Compared to other companies that do similar things, Video Husky seems to provide a very good sense of quality and quantity with the price." –

Martin Wong
Gaming and cosplay may be narrow niches. But Martin Wong has found a way to establish a large following in both. From TikTok to Twitch, he reaches close to 300,000 people across a variety of social media platforms.
Martin got his start as a photographer, where he built a successful freelance career. The next logical step was video, a medium that could add an interactive layer to his already stellar portfolio and social media presence.
But then a problem arose: with success came the inevitable productivity crunch. Martin did not have enough time to edit all of the great footage he shot.
"Obviously I can edit my own video, but I want to focus more on the parts that I like, which is creating content – writing my script, recording, and doing lots of preparation," Martin says. "Editing was just sucking so much time out of my life."
Martin mulled over his options. Outsourcing to local editors is expensive, especially in Los Angeles where he's based. Martin was looking at a hefty bill for each short video he produced. The fees were even higher for longer or more technically challenging edits.
"A lot of my other content creator friends hire editors, and editors are great," he says. "They're very specific and they know what they're doing. However, it is a bit pricey, especially for someone like me who wants to create a lot more content right off the go."
But then, Martin found Video Husky.
In this article, you'll learn how Martin has managed to streamline his editing with their help. You'll discover why Martin chose Video Husky over working with a freelancer. You'll also find out how Video Husky saves him hours of time, which has led Martin to produce a steady output of 10 videos per month.
---
Are you a content creator that doesn't have enough time to clear your backlog of unedited footage? Video Husky can help. We provide you access to a team of dedicated editors who can get your content creation process back on track.
Try us risk-free with our 30-day, action-based money-back guarantee. Click the button below to schedule a free consultation call today!
Book a free consulting call!
---
Working With Freelance Editors Versus Video Husky's All-Inclusive Approach
Even at an entry-level rate, most freelance editors charge a minimum of $100 per video. For Martin, those expenses could add up quickly and he wasn't totally sure if the costs equaled quality.
"Compared to other companies that do similar things, Video Husky seemed to provide a very good sense of quality and quantity for the price," Martin says of his initial reaction to Video Husky's service.
When he found Video Husky, he looked at examples of their work and liked what he saw. He also appreciated that they provided a walk-through of what they'd get for his investment.
"$400 per month is already really close to what Video Husky is charging," Martin says of some freelancers, and without the benefit of unlimited video edits per month, "I wanted to find some solution that'd be easier for me."
Optimizing Workload To Maximize Output
Martin had a streamlined work process from the beginning of his photography career. He was able to bring that same disciplined approach to video production. But there are only so many hours in a workday, and the thought of editing on top of non-stop content production was just too much.
Everything changed when video came into play. His streamlined editing process slowed to a fraction of its prior efficiency. Due to the learning curve and his desire for the perfect cut, Martin estimated that he spent an hour editing per every minute of video.
With Video Husky, the Workday Doesn't End When Martin Logs Off
Video Husky editors are based in the Philippines, putting them 15 hours ahead of Martin. But the time-zone difference actually works to Martin's advantage. Because he's in California, he can submit his raw footage during his normal working hours, and have something back in one to two days.
With an editing team that's based overseas, Video Husky is working on Martin's videos even when he's not. And as a result, they've helped him expand his daily hours of productivity by nearly three-fold.
Whenever he has an idea for a piece of content, Martin says, "I'll record it and fill out the (Video Husky) form, then upload it and then send it over to the editor and let them take a look at it."
Video Husky has been able to consistently turn around edits in a quick and efficient manner, which impressed Martin from the get-go. "I love the current editor I'm working with and a project manager because they know my workflow."
"I give them the instructions of what I want and they're able to come back with a draft within a day or two," he says. "And then we make sure the final product is what I want — and then I'm able to upload the video to my YouTube and publish it."
Below are a few of other reasons why he's come to appreciate Video Husky:
Reason #1: He's Able To Turn Around 10 Videos per Month
With the help of Video Husky, Martin is able to publish five to 10 top-quality videos per month to his channels. That's in addition to the photography work he is known for. This was especially important to Martin, who offers his viewers a lot of in-depth tutorials and how-to guides.
"Sometimes the things I say are more technical as well. And when it comes to very specific teachings or if I'm talking about some specifications of equipment, I don't want to get it wrong," Martin says. "So (before Video Husky), editing video took some time because I (wanted) to make sure that what I said is what I wanted to say.
"Even a five-minute video might take me like four or five hours over two days."
Reason #2: They're Easy To Work With
Martin is an easygoing guy. He's someone who'd rather take the time to do something right the first try than hurry through an edit that would need more revisions later. Because he's a creator who experiments with different formats and has a constantly rotating cast of guests, he needs his crew at Video Husky to adapt — and they have.
"We will slowly work it out," Martin says of trying out new concepts. "Because I know once we create that good rapport between me and the editor, we're able to create future videos much more efficiently and much more productively."
With editing off his plate, Martin estimates a five-minute video takes him three hours start to finish. Still a sizeable chunk of time, but far less without the tedious task of editing.
It also helps that Martin has been working with Video Husky since October 2019. His long engagement with the service has enabled him to develop an understanding and trust in his editing team.
Reason #3: Video Husky Saves Martin Time by Choosing His Best Footage
After nearly a year of getting to know one another, Martin is comfortable enough now with his editor that he often sends in excess footage. He trusts that his editor will pick out the best content to splice into a finished product. At this point, Martin knows his editor understands his eye for style, personality, and coloring.
Along with an increase in output, Martin finds their collaborative approach to be valuable, too. As well as he knows his audience, he's found it incredibly useful to get a second opinion.
"I really like having a different perspective," he says. "Just because I find something interesting, it might not be interesting for everyone else. It's great to have an editor to watch the show, see what is interesting to her, and then pull out the rest of the stuff and cut it herself."
He also appreciates their systematic approach, which allows him to work at an efficient pace without having to worry about his process. Communication with his editor is a breeze, with fast response times and a good flow back and forth about revisions.
Looking To the Future
As a multi-channel content creator, the name of the game for Martin has always been versatility. His Twitch and Instagram followers are active and engaged. And because of the consistently improving video production process, his YouTube channel is growing as well.
"There are so many content creators that need this kind of service," Martin says. He notes that the service could provide immense value to vloggers in the gaming world, as many want to take their know-how and experiences and translate them into lessons they share through video.
Martin also believes that no matter one's niche or specialty, having a service like Video Husky to edit content can only simplify their workflow.
"I feel like Video Husky is great at letting me focus on what I do best – creating content," Martin says. "They let me go out there, shoot my videos while they go and handle the rest."
Tim Wenger is a journalist and author based in Colorado. Learn more about him by visiting his website.
---
Do you want to create more videos without sacrificing quality? Then, consider Video Husky. We provide you access to a dedicated team of talented editors who can help.
Try us risk-free with our 30-day, action-based money-back guarantee. Click the button below to schedule a free consultation call today!
Book a free consulting call!
---