By Tan Siew Ann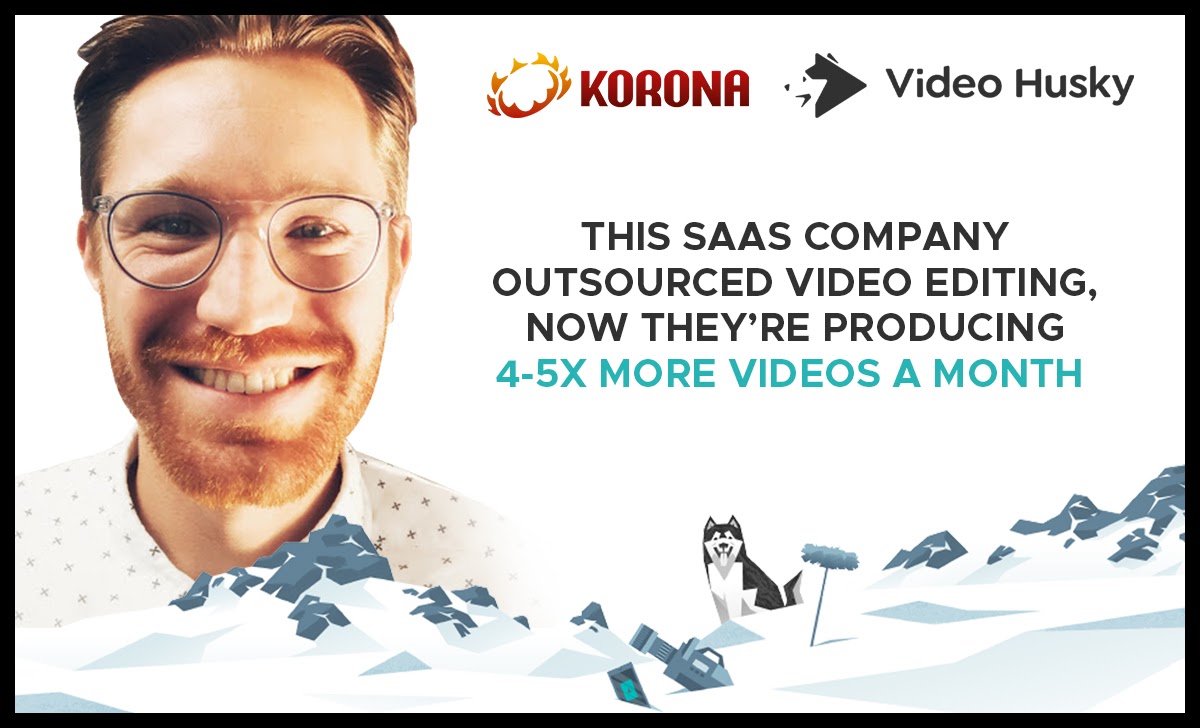 "The workflow is really streamlined at this point."

Michael Chalberg
Shortly after Michael Chalberg started his new job as marketing manager at Korona, a point-of-sale software company, his boss threw him a challenge…
He tasked Michael with making video production one of his top priorities.
"It's just a big arm of the content wing of things that we wanted to build up," said Michael of why Korona made the leap into video in 2018.
The company already had a YouTube Channel, but they wanted to improve it. If Korona was to succeed with videos, Michael knew that they had to do two things:
Upload videos often. Doing so would please the YouTube algorithm and increase the chances that their videos get in front of the right eyeballs.
Create good content that provided helpful material for both existing and prospective customers.
With no video experience himself, Michael started filming, figuring out the video production process as he went along. But a few months in, Michael knew that things weren't working as well as he hoped. With no previous production under his belt, he learned fast that making videos was "a colossal amount of work".
Especially video editing.
"The editing process was the real 'meat' of time consumption," Michael said.
Michael knew he needed help, and it wasn't long until a quick Google search led him to Video Husky.
In this article, you'll learn how Video Husky has helped Michael and Korona:
Ramp up their video production by 4-5x.
Save close to 80 hours a month on video editing.
---
Sick of wasting time editing your own videos? Video Husky provides you access to a dedicated team of talented editors who can help.
If you're not happy, we have a 30-day, action-based money-back guarantee. Click the button below to schedule a call to get started today!
Book a free consulting call!
---
Life Before Video Husky: "Not Pretty"
Before Video Husky, Korona's video production department was a team of Michael and Michael alone. While scriptwriting took about an hour, and equipment set-up about 20 minutes, Michael spent practically an entire workday editing a single video.
While Michael had a vision for his end product, he just didn't have enough editing experience to achieve it.
At the rate that Michael was editing each video, Korona managed to push out only around two videos a month. It soon became clear that it wasn't feasible for Michael to produce enough videos with the resources he had.
"[Editing] was my least favorite thing in my entire job. I absolutely hated it," Michael said.
Excellent Communication Leads to 4-5x Increase in Video Output for Michael
After discovering Video Husky, their reasonable price and access to dedicated editors were enough to convince him to try. But over time, Michael has found working with Video Husky to be a "phenomenal" experience.
From the start, his editor, Mervic, has helped Michael finetune and communicate the vision for his videos. This reassured Michael, who initially wondered how Video Husky would turn his ideas into reality.
"One thing that I struggle with is coming up with an overall brand idea and trajectory of something, then conveying it to somebody else," Michael said. "Telling them like 'This is how I want it to look.' I was really nervous about that.
"I kind of in my head knew what I was thinking and wanted [my videos to be]," he added. "But I didn't trust myself to be able to communicate that to someone else."
But Michael discovered that Video Husky delivered on all that and more. For example, Michael doesn't have much technical experience shooting videos. But his editor readily offered advice for filming more professional-looking content, like how to set up the ISO settings for his camera.
That second opinion was impressive for Michael, who admits he isn't the most experienced YouTube marketer.
"[The communication] part of the service was just so above and beyond," Michael said. "It made me immediately want to sign up for the six-month contract."
"Most Videos, I Don't Even Ask for an Edit"
During their first six to eight months working together, it didn't take long for Michael and Mervic to streamline their workflow.
Michael still oversees the big-picture vision for each video. But at this point, Mervic understands Korona's color scheme, style, pacing, and other brand-related elements so well that Michael doesn't have to brief him anymore. While Video Husky's unlimited revisions provide reassurance, Michael's chemistry with his editor reduces the need for extra edits.
"Most videos, I don't even ask for an edit after his first try," Michael shared. "And if I do, it's like a couple of small edits that just take him one other day."
With Video Husky's help, Korona is now producing at least seven to eight videos a month. On a great month, they can even produce 10.
It's a stark improvement from when Michael produced videos alone. Thanks to Video Husky, he's saving up to 80 hours of work each month.
As a POS company, Korona's YouTube Channel doesn't have millions of views. But the volume of videos they now make have been reaching their target audience, and in the end, that's all that matters.
"My bosses give me way too much credit," Michael said. "But everyone's been really ecstatic about how they've turned out."
Siew Ann is a freelance B2B tech and entrepreneurship content writer with practical digital marketing experience. Her writing has been featured in Business Insider, Tech in Asia, Vulcan Post, and others. She also runs lancerX.co, a freelance resource blog for anyone looking to turn their craft into a sustainable and meaningful freelance business.
---
Want to create more content but find video editing is slowing you down? Video Husky provides you access to a team of dedicated and talented editors who are ready to help.
Try us risk-free with our 30-day, action-based money-back guarantee. Click the button below to schedule a free consultation call.
Book a free consulting call!
---