By Elly Earls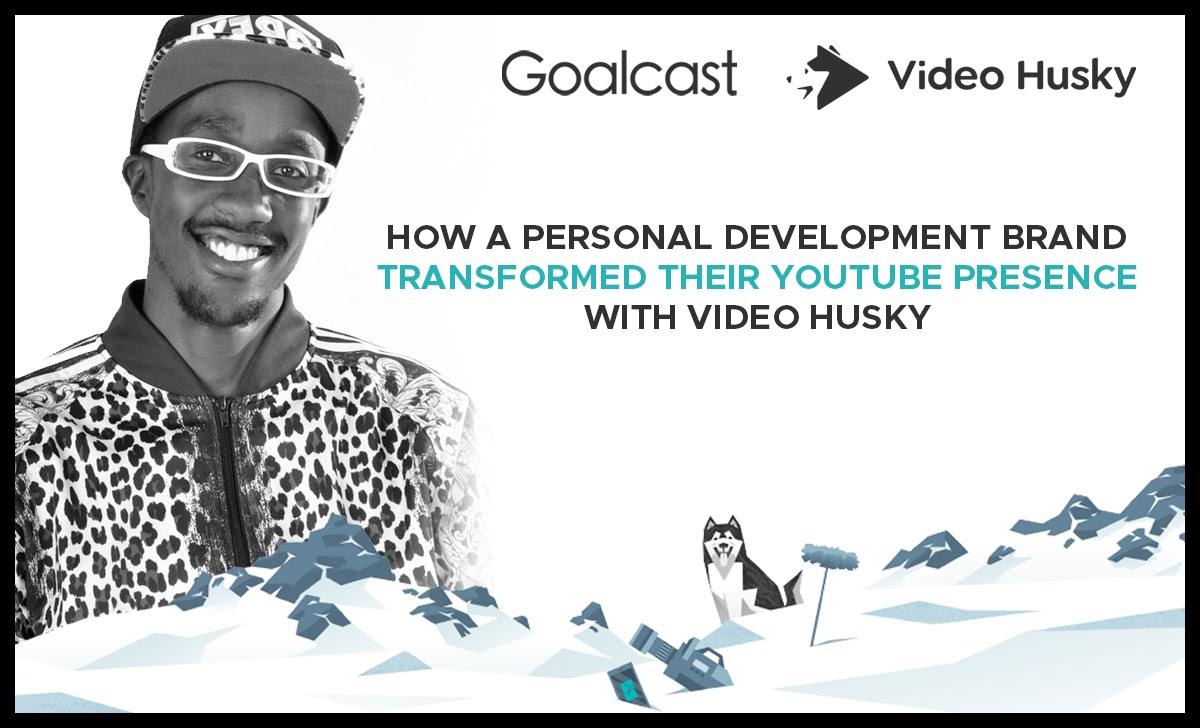 "With Video Husky, now I can just close my eyes and it's done."

Cyusa Kamoso, Production Coordinator at Goalcast
With over 30-million fans and 500-million views per month, video is the lifeblood of Goalcast. This personal development brand creates new videos every day and are always looking for ways to improve production. But there was one type of video that presented huge challenges for them – compilations.
Although Goalcast has a large team of creatives, their focus is on finding stories to share rather than the minutiae of video editing. While this didn't present a problem for publishing on Facebook, where short-form content is popular, they struggled to make the longer-form videos that engage audiences on YouTube.
Enter Video Husky.
Goalcast's production coordinator Cyusa Kamoso first heard about Video Husky while browsing Google for video editing services at his previous production company. When he joined Goalcast, he discovered they had also discussed working with them but no-one had taken the initiative. So, he took matters into his own hands.
Since then, Video Husky has created several video compilations for Goalcast. The first eight have already amassed more than 640,000 views and 18,000 likes on YouTube.
In this article, you'll learn what Video Husky did to exceed Goalcast's expectations, including:
Producing 4x as much content as anyone at Goalcast hoped.
Their impressive turnaround, thanks to the time difference between Goalcast's offices and the Video Husky editors.
The tests that Goalcast administered to find out Video Husky's technical and creativity capacity (and how Video Husky passed them with flying colors).
---
Are you a content creator that doesn't have enough time to clear your backlog of unedited footage? Video Husky can help. We provide you access to a team of dedicated editors who can get your content creation process back on track.
Try us risk-free with our 30-day, action-based money-back guarantee. Click the button below to schedule a free consultation call to learn more.
Book a free consulting call!
---
Video Husky Exceeds Expectations
At first, Goalcast's CEO was skeptical about outsourcing any of the creative processes. He believed in internal talent over working with freelancers or outside companies. But Cyusa felt he could change his boss' mind if he approached the partnership with Video Husky in a realistic way.
As Goalcast only needs one compilation each month, the initial goal was to see if the firm could edit four. After a few weeks, Video Husky surprised them and had already completed 16.
"This changed everything," Cyusa recalled. "It made us consider whether we should change the way we think about these compilations."
The efficiency of Video Husky's editors also reassured Goalcast's CEO of the value of the service. He perceived and liked the company as an assistant rather than a typical freelancer.
In addition, Video Husky made life much easier for other members of the Goalcast team – both on the creative and technical sides. The company's YouTube channel manager, a 'data guy', now feels like the creative side of the video editing process is more within his reach.
"Video Husky gives the opportunity for non-video editors to become video editors," Cyusa said. "Now (they) can say, hey I have this idea – let's just create it!"
One of Goalcast's scriptwriters decided to test Video Husky's creative boundaries even further by asking them to turn an article into a video. To her surprise, they did a very good job, leaving her more encouraged about the service.
"That scriptwriter said she felt empowered and wanted to use the service more," Cyusa said.
When It Comes to Communication, Video Husky Delivers
On top of their creative and technical expertise, Goalcast has come to appreciate Video Husky editors because of how they communicate. He also admires their attention to detail and quick turnaround times.
"I liked that the team took the time to do the onboarding," Cyusa said. "Usually, I don't get that amount of attention. Those guys take the time to care about us."
This extends to the video editing process itself, during which the editors make an effort to really get to know their customers' needs and desires. "We've been growing together," Cyusa said. "Now I can just send them pretty much any project and I know the expectations. If it's a new project, I know maybe it's going to be frisky at the beginning. But then it gets better."
As a North American company, the biggest unexpected benefit of working with Video Husky has been the time difference. "It's like having a back-up team working at night," Cyusa explained. One night, they managed to clear a backlog of 250 thumbnails.
Getting the Most Out of Video Husky, Plus What's Next
Goalcast's partnership with Video Husky has succeeded in part because of the robustness of its own operations. For example, it has its own internal 'Wiki', which describes the process of working with Video Husky for staff members, both old and new.
As a former video editor himself, Cyusa knows only too well the importance of clarity. "Some people might come in and think video editing is going to be super easy, but it's never easy. Creation is never easy. Human beings are complex and you have to start on the same level and set your expectations."
Fortunately, Video Husky has passed their bar.
The latest addition to Goalcast's portfolio is a new channel called Life Stories. Like their primary platform, they plan to include many more compilation videos, too. There's no question in Cyusa's mind that Video Husky will be an important partner in their newest project.
---
Do you want to create more videos without sacrificing quality? Then, consider Video Husky. We provide you access to a dedicated team of talented editors who can help.
Try us risk-free with our 30-day, action-based money-back guarantee. Click the button below to book a free consultation call to get started today.
Book a free consulting call!
---