By Benedict Tagle and Jonathan Santiago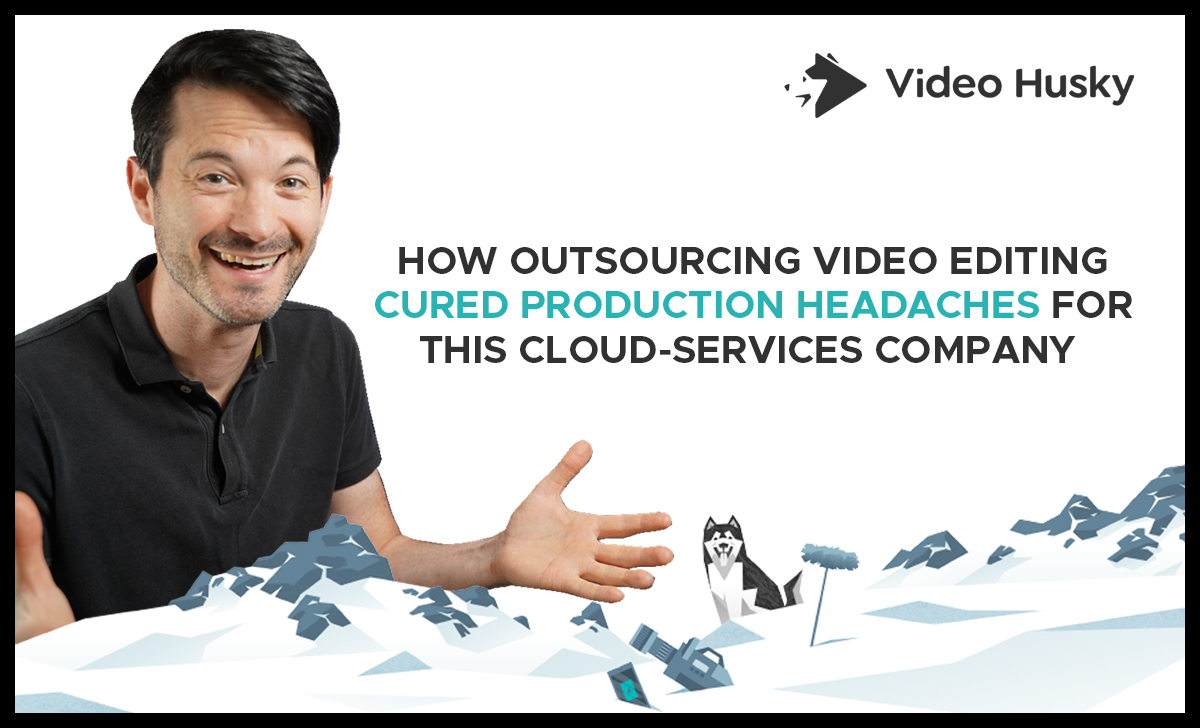 "If you want to create a solid process for video editing and for video production, I think you need a company like Video Husky."

Fintan Murphy, CEO Damson Cloud
Change is never easy.
Just ask any office that's made the switch from outdated, office technology to something more modern.
Fintan Murphy and his company, Damson Cloud, try to soften that transition for businesses. By using the power of video, he teaches and educates clients and prospects about what to expect.
Leaning on content wasn't a Eureka moment for him. Through experience, it became obvious that there was an audience for this information.
"That's where things were going," Fintan said. "Video was only becoming more popular."
When Fintan first started, he chose to do everything by himself. But it wasn't long until he found problems with shooting and editing on his own. Being both CEO and content creator made Fintan feel like he was working two jobs at once.
To simplify and lighten the load, he decided to look for help. His hope was to find an answer that would meet Damson's needs for consistent content.
Then, he found Video Husky.
In this post, we'll cover…
How Fintan's developed a system with Video Husky for making videos consistently.
What Fintan appreciates most about Video Husky's service.
---
Do you want to create more videos without sacrificing quality? Then, consider Video Husky. We provide you access to a dedicated team of talented editors who can help.
Try us risk-free with our 30-day, action-based money-back guarantee. Click the button below to schedule a free consultation call today!
Book a free consulting call!
---
Life Before Video Husky: Struggles With Work/Life Balance and Process
When Damson first started making videos, Fintan decided to be a one-person crew. He shouldered the weight of responsibility because creating content was a new idea for Damson, making it a somewhat risky bet.
For a little while, Fintan trudged along because he enjoyed the creativity of the process. But over time, being a one-man-band resulted in issues. Work/life balance became non-existent the more time he spent in production.
"I would edit on my quiet days, off days, and in the evenings," Fintan said. "Having little rest wasn't good for my health."
His production process wasn't as organized as it could've been, either. There was very little planning involved. Instead, he came up with an idea, filmed, edited, then tried to publish a video in a single day.
Without a systematic approach, he struggled to post on a regular basis. Many times he found himself reusing old videos just to get something up on YouTube each week.
Building a Content Creation Machine With Video Husky
By signing up with Video Husky, Fintan made a commitment to get his house in order. As a result, Damson now has a clear process for producing their videos.
These days, Fintan works with a colleague on the company's content. They plan what they want to create months in advance.
Once the ideas are final, only then do they start shooting. Then after the first pass by his colleague, Fintan sends the footage over to Video Husky.
From there, his editor and project manager take control of another round of edits. They work as a team along with Damson to get a final product.
The Benefits of a Productive Partnership
Thanks to an improved approach, Fintan has more peace of mind. He has more time, which he now uses to brainstorm new ideas and dedicate himself to his duties as CEO.
With a systematic process in place, Fintan's no longer scrambling like he used to before. No more last-minute content planning either. Damson Cloud now delivers weekly content to its audience without a hitch.
Fintan also appreciates that Video Husky provides him with a dedicated editor. There's value in the consistency of having a person get to know your style and preferences. Over time, Fintan developed a rapport with his editor.
"Zarina is at a point where she knows what I want," Fintan said of his editor, who's based in the Philippines. "I could almost say, 'Here's my video, you do what you want.'
"In fact, I did that one week when I was very busy and she did fine," he added.
Here are a few other things that Fintan admires about Video Husky:
Director's chair add-ons, like the creation of thumbnails and subtitles for his videos. Letting Video Husky handle these things speeds up Damson's production process.
The video request form in the service's dashboard. He appreciates how it asks thoughtful and specific questions that prevent miscommunication.
The one-to-two-business-day turnaround time. This has enabled Damson Cloud to consistently create four videos a month (sometimes six in a good one).
Eliminating the "Huge Chunk of That Headache"
If you want a better process for production, there is a better way.
You might be capable of handling things on your own for a little while. But it won't take long before you burn yourself out.
Just ask Fintan.
The time and effort to produce videos on your own is only worth it until it's not. Video Husky can help you simplify and rid yourself of any wasted hours editing.
"Get the experts in instead," Fintan said.
---
Feeling overwhelmed by having to edit your own videos? Hand your content over to Video Husky. We provide you access to a team of dedicated video editors who can deliver you peace of mind.
If you're not happy, we have a 30-day, action-based money-back guarantee. Click the button below to schedule a a free consultation call today!
Book a free consulting call!
---