By Tim Wenger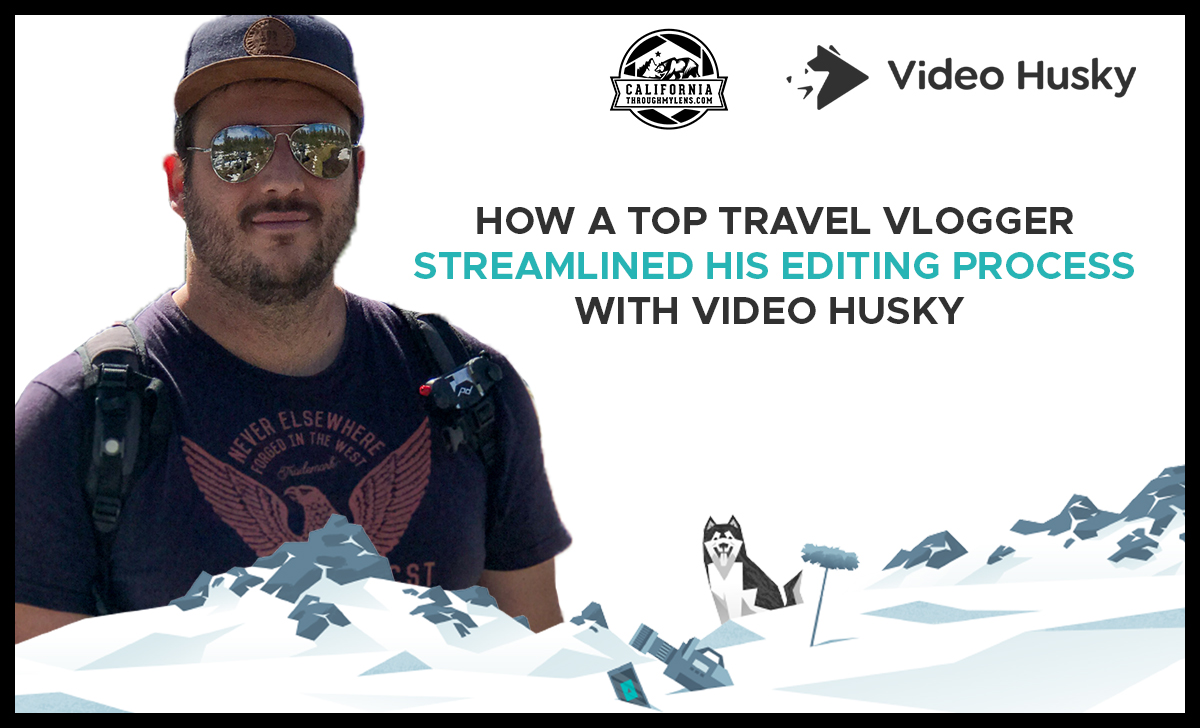 "The amount of content that I'm able to produce makes it worth the money."

Josh McNair
As the creative talent behind two popular YouTube Channels, California Through My Lens and the global-focused Through My Lens, Josh McNair had become a whiz at creating engaging visual content that helps travelers grasp their destination and build a travel agenda.
His unique perspective has caught on — with 203,000 subscribers across two YouTube channels, Josh has built California Through My Lens into one of the web's most trusted travel guides for visitors to California.
His success stems from two main factors: First, a keen ability to break down large destinations such as Los Angeles into digestible bits. Next, a personal touch that gives his video content relatability that's tough to come by in the travel blog-o-sphere.
But Josh's success brought with it a dilemma:
Josh had so much useful content that he struggled to work through editing and post-production in an efficient manner.
He needed help with back-end editing, but didn't want to dedicate production time to hiring, training, and managing a video editor.
He also felt unsure about hiring talent through freelancer sites, as he would then need to dedicate time to getting a freelancer up to speed. "It's very scattered," Josh said of the process to hire an editor, whether to join his team or as freelance help.
With a backlog of 10 to 15 videos just sitting in his computer waiting to be edited, he needed a ready hand, and fast.
Then a fellow travel blogger told Josh about Video Husky.
In this article, you'll learn:
How Video Husky helped Josh clear his first backlog of

10 to 15 videos

in just a

month and a half.
How Video Husky helps Josh with the production of ambitious projects, including one

2-hour long video

that's garnered close to

2-million views.

How Josh manages his workflow to include Video Husky without losing his personal touch.
Are you a travel vlogger with a backlog of content that needs editing? Video Husky can help! Try us risk-free for 14 days.
Learn more
Travel Vlogging Requires a Near-Constant Output of Content
Originally intending to focus on written travel content accented by stellar photography, Josh made the switch to producing video after looking into current trends in the digital media space.
"I started to see that people were getting away from written content — at least some of the younger generation was moving towards wanting visual content over written content. And so that's what kind of brought me into the video realm," Josh says.
While his shoots typically happened in an efficient manner, travel time and adding Josh's personal flare — music, voiceovers, and other customizations — are time-consuming.
Not only that, but each video needed to be formatted for YouTube and shared across Josh's social media platforms.
The footage just kept piling up.
"I just didn't have the time to get through everything, even though I could edit it relatively fast," Josh says.
Josh signed up with Video Husky in June 2019.
What Josh Enjoys Most About Video Husky
Trusting other people with your work — especially those whom you've never met — is never easy.
At first, his expectations were low. He didn't expect his editor to understand his style from the get-go, nor to have a partner that fit so well into his current workflow and publishing schedule.
"I think that as somebody who edits, you often feel like you are doing something that other people can't do. And then you quickly realize that's not the case."
The time zone difference — Video Husky's team is located in the Philippines– has proven to be beneficial. Josh passes off work and often has something back first thing when he checks in the next morning, and he jokes that their English is actually better than his.
"I thought it was going to be a lot harder than it was," he adds.
Trimming His Workload
Professionals like Josh prefer their signature touches on each piece of content. As such, Josh counts on Video Husky to lighten his production load while still allowing him the room to make each video uniquely his own.
"I never expect them to finish the video. I expect the video to be organized and probably like 80% for me. And then I finish everything," he says.
Josh uses Video Husky for heavy edits, while he handles customized transitions and clip extensions, and post-production work like swapping voiceovers and music. In short, Video Husky sends him the edited Adobe Premiere file, and he knocks it out of the park.
"It's just nice to be able to send my footage, to have them do at least a draft that's usually really well done. Then, I can just take it and I can finish it myself," he says.
Producing Long-form Videos
In 2019, an idea came to Josh that he felt confident would take his channel to the next level.
Josh and his father had long wanted to drive Route 66, one of the world's most famous road trips.
Josh wanted to produce an in-depth guide to the trip, one that would give his followers a complete picture of what the trip looks like and what it takes to make it happen.
He enlisted Video Husky to help produce the two-hour documentary. This massive project required combing through hours of footage and organizing, editing, and finalizing the film.
Video Husky helped Josh get the project about 60% done.
"I don't know that I would have been able to carve out the time needed to do that," Josh says. "Being able to have them help me with organizing long pieces like that has been a huge, huge help and probably something that would have taken me forever to do if I was doing it myself."
You can watch the final product below (tip: make popcorn and get comfortable. It's quite a show!)
Josh's Current Workflow Is Easier Than Before
After being impressed with how quickly his editor and project manager grasped his style, Josh no longer needs to make that first draft of his videos anymore. This has freed more time to do other related tasks, including:
Drafting new posts for his blog and social media channels.
Travel more easily because he doesn't have to spend as much time in his office editing.
He can also place more attention on other aspects of the production process such as producing and gathering content.
"I have always held myself to a high standard, I put out a video every week," Josh says. With Video Husky, "My life is a lot easier."
Do you want to increase the volume of video production without sacrificing quality? If so, then consider Video Husky! Try us risk-free for 14 days.
Learn more