By Jonathan Santiago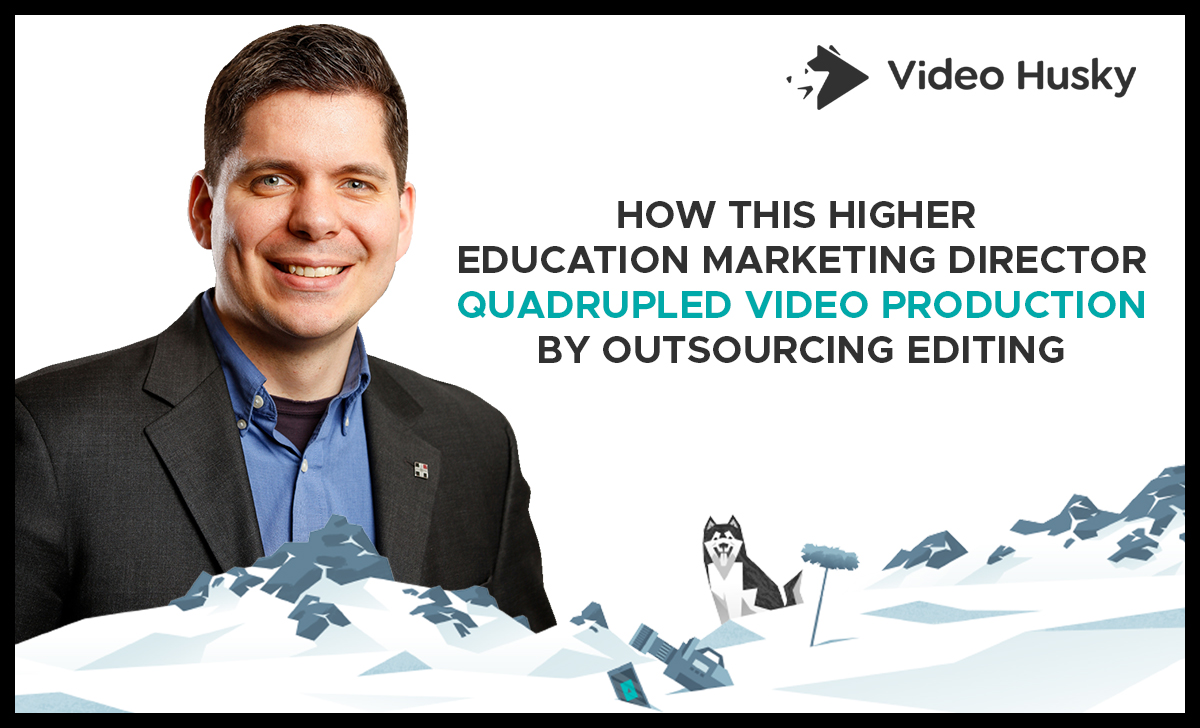 "With Video Husky, we were able to exponentially increase the amount of video content we were producing."

Michael Blankenship
As the marketing director of Northeastern Seminary, Michael Blankenship was responsible for differentiating the college, increasing student enrollment, and attracting donors. But he faced three main problems.
The decreasing appreciation for higher education due to the skyrocketing costs.
The massive number of universities competing for a smaller pool of potential applicants.
The limited resources he had compared to larger institutions to make the right impression.
Trustees and donors considered Northeastern Seminary as one of higher education's best-kept secrets. But Michael knew that had to change.
"If it's a secret, no one knows about it," Michael said about the state of the institution's marketing when he took over in 2018.
To raise Northeastern's profile, Michael chose to lean on video content since most higher education institutions don't compete in this arena.
But to earn that edge, Michael couldn't tackle production by himself. He didn't have the capacity to make high-quality content at the volume he envisioned. To stay nimble, Michael knew he needed some help.
Enter Video Husky.
In this article, you'll learn how in just a couple of months Michael…
Saved 30+ hours on video production.
Producing 4x more videos at a higher quality than he was previously able to.
---
Sick of wasting time editing your own videos? Video Husky provides you access to a dedicated team of talented editors who can help.
If you're not happy, we have a 30-day, action-based money-back guarantee. Click the button below to schedule free consultation call to learn more.
Book a free consulting call!
---
How Michael Produced Videos Before Video Husky
Before Video Husky, Michael only had time to produce about one video a month. They didn't feature much storytelling, either. Instead, videos only shared information about timely events that were happening on campus.
Michael, though, wanted the seminary's content to be more narrative-driven, instead. He thought that sharing stories from students and alumni was a better way to appeal to prospects.
"For the work that I do, one of the best ways for me to accomplish my goals is to tell the stories of the people who have been students and have become successful after having been students," Michael said.
But to produce these kinds of videos was no small order. Michael just didn't have the bandwidth. He had other responsibilities on his plate that took often took priority, such as:
Running digital ad campaigns to find new leads for the seminary's various programs.
Creating drip campaigns that nurtured prospects through email, text message, and direct mail.
Managing the campuses' social media accounts.
Brainstorming ways to support the advancement of the seminary's fundraising goals.
One-Man-Band
Although he was the institution's director of marketing, he was pretty much a one-man-band. Making a single video alone took hours and days because the bulk of production tasks fell on him.
To produce the videos he wanted, his process first began with scheduling interviews. Coordinating involved back and forth correspondence with students and alumni. This took him about 30 minutes to an hour each day.
Next, Michael had to film the interviewees. Along with conducting the interview, Michael was also responsible for filming his B-Roll. As a one-man-band, he had to set up and tear down all his equipment, too. Each shoot took about 2 to 3 hours to do.
Finally, editing was the last part of the process. It was by far the longest and most tedious. For a single video, Michael estimated it took him about 6 to 8 hours to edit.
Why Did Video Editing Take So Long?
Michael had to condense a 20 to 30-minute interview into 3 minutes of compelling content. How fast he could do this depended on the quality of the interview. He often spent an hour or two cutting and piecing footage together into a coherent narrative.
Then, there were technical factors to consider. To edit a video, he often had to clean the audio and color correct the footage. He also had to mix music and add subtitles, graphics, and B-Roll.
Finally, editing took as long as it did because of contextual elements, too. Was the final cut in line with Northeastern Seminary's brand and core message? That was a question he had to answer throughout the process.
What Life Looked Like for Michael With Video Husky
Planning and coming up with ideas for videos wasn't something Michael could hand off. He didn't have the budget for a freelance videographer to shoot videos on his behalf, either. But he did wonder if there was room to hire an editor.
Michael discovered Video Husky after seeing one of their Facebook ads. After researching what they offered and what they cost, he concluded editing was one thing he could outsource.
Video Husky paired Michael with a dedicated team. He had an editor to handle post-production and an account executive to manage the process. All Michael needed to do was upload his footage to the cloud and send clear instructions for his team to follow.
"Because Video Husky was managing editing for me, I was able to produce video," Michael said. "Otherwise, the other responsibilities I was doing would have prohibited me from making these kinds of videos just because the time wasn't available."
By working with Video Husky, Michael was able to increase his production and save time. Northeastern Seminary went from making one video a month to about 3-4 on average. And in total, Michael estimated that he saved around 24 to 32 hours a month thanks to his Video Husky team.
"Being able to cut out that section of having to sift through that interview is huge," Michael said. "That is such a time saver."
Measuring Success
Output and the time he saved weren't the only two metrics that Michael measured to gauge his success. He also tracked and saw improvement in a handful of his other key indicators such as:
Views and Engagement: These gave Michael insight into whether people interacted with his content or not.
Time on Site: Michael embedded videos he produced on various pages on the Seminary's website. He'd check if the average time spent on them increased as a result.
Ad Traffic: Michael often trimmed the long version of each video into shorter 15 to 30-second cuts. He'd use those shorter cuts as ads, encouraging viewers to visit the seminary's website to learn more.
School Stakeholders Take Notice
Aside from quantitative measures of success, Michael paid attention to qualitative feedback, too. He learned that his videos were leaving strong impressions around the institution's community.
Students and alumni became very aware of the videos he made. As a result, many were open to sharing their stories whenever Michael needed to produce more. In fact, some of them stated that the videos had influenced their choice to enroll at the seminary.
"A couple of years after we started this process, one of the reasons (some students said) that they had come to the institution was because they had seen those videos, they had seen those stories," Michael said.
Positive feedback about the videos poured in from institutional stakeholders, too. From colleagues, Michael heard that donors and trustees expressed delight about stories the videos told. They shared enthusiasm in board meetings or in conversations with Michael's fundraising colleagues.
The videos also struck a chord with Northeastern Seminary's highest-ranking faculty member. Dr. Deana L. Porterfield is president of Roberts Wesleyan College, the university that founded the seminary and is its sister institution. Michael discovered that she appreciated the videos that he made.
"The president of the college began pointing to the video content that we were making at the seminary as the standard that the college – the larger institution – needed to be producing to effectively tell its story," Michael said.
"The president began encouraging the college to begin producing similar content to effectively tell its story," Michael added.
In fact, the college later became a Video Husky client as a result.
"That was just a very encouraging thing to see the college adopt what the seminary was doing," he added.
Where Michael Is Today
When it comes to creating videos, most higher ed institutions choose one of two paths. They decide to either optimize for volume or quality. The former is much less expensive while the latter is the opposite.
But with Video Husky, Michael could produce volume without sacrificing quality. And as a result, leaning into video allowed Northeastern Seminary to stand out and reach its goals.
Michael has since moved on from Northeastern Seminary. He's now overseeing marketing at a similar institution, where he has less time to work with than before.
Michael has a larger team to help him. But none of his colleagues have the background with video to make the kind of content he strives to produce. That's why today he continues to rely on Video Husky for all his editing needs.
"Having Video Husky allowed me to be able to give my attention to the areas that need attention," Michael said. "But also significantly alleviate a lot of the demands of actually producing my video content."
---
Do you want to create more videos without sacrificing quality? Then, consider Video Husky. We provide you access to a dedicated team of talented editors who can help.
Try us risk-free with our 30-day, action-based money-back guarantee. Click the the button below to schedule a free consultation call to learn more!
Book a free consulting call!
---