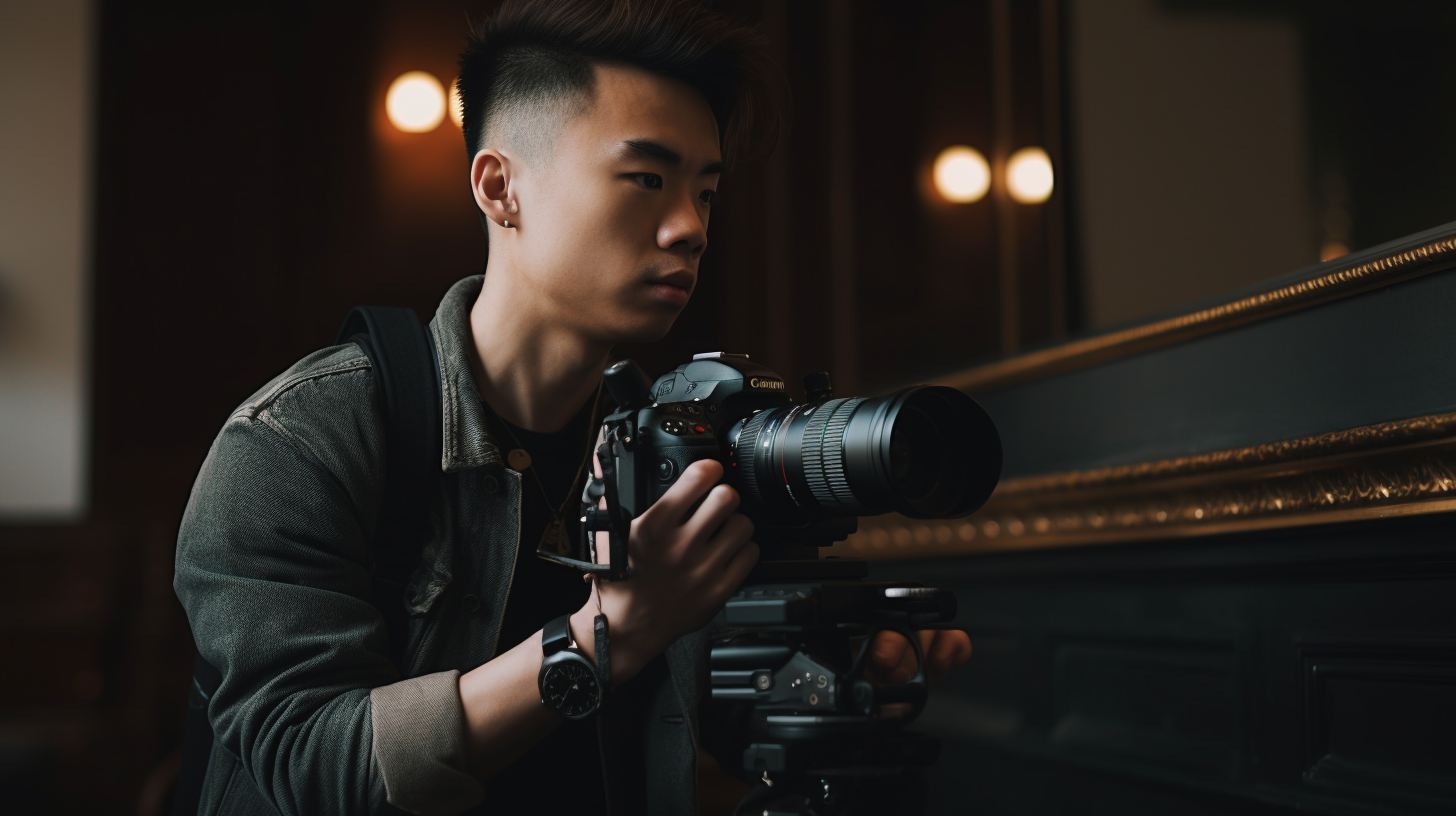 Have you ever dreamed of becoming a YouTube sensation? Many people aspire to this but few actually achieve it. However, with determination and skill, you can transform your freelance videography career into a successful YouTube channel. This blog post will guide you through the steps to become a YouTube sensation and the challenges you'll face during the process. We'll also emphasize the significance of cinematic visuals, storytelling, and creating viral content. By the end of this post, you'll have a better understanding of how to elevate your career from a freelance videographer to YouTube success."
Basic Steps of Video Production
Whether you are a freelance videographer or an aspiring YouTube creator, it is important to understand the basics of video production. The demand for real estate videography is increasing, and AirBnB provides unique filming opportunities, making content creation more popular than ever. Knowing the steps of video production will help you create engaging videos that can lead to channel growth and potential YouTube success.
The first step in creating a successful video is determining your target audience and what they are looking for. Once that is done, you can begin developing a storyboard for your film. This will give you an outline of what scenes need to be shot and how the film should progress from start to finish. After that, it is time to choose a suitable location for your shoot. You want something visually interesting but also with good sound quality, so make sure to check these factors before locking down a spot!
Once everything is set up and ready, it is time to start filming! Capture all the necessary footage, dialogue, or sound needed. This part may require multiple takes, depending on how complex your script is! Once all footage has been captured, move onto editing, where effects like music or titles can be added into the mix. Finally, export and upload the video onto YouTube, so everyone can watch it!
If you are just getting started in this field, there are some key points worth noting. Firstly, invest in taking film courses if possible, as they will teach you valuable skills such as cinematography, storytelling techniques, and more, which will come in handy when creating content down the line! Secondly, get familiar with relevant keywords, so that when optimizing your videos, they appear higher up in search results. This increases visibility vastly, which could mean viral videos awaiting around every corner! Finally, do not forget networking. Find mentors who have done work similar to yours before and gain insight into their experience. This could open many doors throughout your career journey!
The Editing Process For Creating Great Videos
The world of video editing can be daunting for both freelance videographers and YouTube creators. From finding the perfect footage to highlight your video's narrative, to creating viral content and growing your channel, there are many challenges that come with content creation. Whether you're a professional real estate videographer or an up-and-coming YouTube creator, this article provides tips on how to become a successful video editor.
First and foremost, it's important to determine which software is best for editing your videos. There are several popular programs, such as Adobe Premiere Pro, Final Cut Pro X, and Avid Media Composer, that each has their own unique features and capabilities, so do your research! Additionally, make sure you choose the best format for uploading the final product.
Once you've familiarized yourself with different editing software platforms, it's time to start learning how to use the most popular features to improve the quality of your videos. Utilize keyframing and color correction for cinematic shots; create music or sound effects; add text/graphics with professional touches; and incorporate transitions between scenes. These elements will help give your videos an extra boost!
Furthermore, create a workflow system that works best for streamlining your editing process. Research different types of editing techniques so you can better understand what works well in certain scenarios, such as a documentary style vs. cinematic visuals. This includes learning how to cut footage effectively as well as understanding timing when creating transitions or applying color correction/grading techniques. Aspiring editors should also look into taking classes or attending workshops on video editing if available in their area. This can be invaluable when starting out!
Finally, once you feel comfortable with creating great content through video editing, it's time to take steps towards making it into a career path. Build up a portfolio showcasing some of your own edited videos; network with other editors within the industry; identify potential clients/markets for services offered; set up an online presence through social media profiles and websites, such as Instagram; stay up-to-date on current trends and technology within the industry. All these steps will help elevate any aspiring editor from freelance videographer status to becoming an official YouTube sensation!
Popular Video Editing Software
Are you a freelance videographer looking to break into the YouTube game? Or perhaps you're already a YouTube creator in need of assistance with your content creation process? If so, it's important to figure out which video editing software is best for your unique needs. With so many options on the market, it can be challenging to choose the right program that helps take your videos from amateur to professional quality.
Whether you have experience creating real estate videography or tiny home Airbnb videos, or you've grown your channel but are struggling with achieving cinematic visuals and storytelling, you need video editing software that makes it easy to create viral content and build your career as an influencer.
Thankfully, there are various popular options available for amateur and professional videographers, including open-source programs like VLMC and OpenShot, Final Cut Pro for creating high-quality videos, Adobe Premiere Pro, which is widely used by filmmakers, Apple's Final Cut Pro X (an alternative option for Mac users), DaVinci Resolve, which offers both free and paid versions specifically for YouTube creators, the industry standard tool Avid Media Composer, Lightworks (a great open-source option available on Windows, Linux, and macOS), Hitfilm Express, which includes premium features in its free version, Filmora 9, which makes producing professional results easy regardless of your video-creating experience level, Shotcut's cross-platform capabilities, and VSDC Free Video Editor, which can be installed on Windows systems without any cost.
By keeping these popular options in mind, you can find the perfect solution that balances budget constraints and feature needs – whether you're a freelance videographer or aspiring to become a successful YouTube sensation!
Grow Your Channel On Social Media & Streaming Sites
Are you a freelance videographer looking to make it big online? To grow your channel from freelance videographer to YouTube sensation, creating compelling content is essential. Whether you specialize in real estate videography or unique Airbnb tours, being well-versed in the latest industry trends is crucial. Here are some tips!
Begin by sharing your work on social media platforms such as Instagram and Twitter. Reach out to influencers and partners to share your content with their followers. Utilize streaming sites like Twitch or YouTube Live to maximize viewership potential. Collaborate with other creators with large followings to leverage their audience and attract more eyes to your content.
Consistently releasing new content is essential for channel growth. Develop cinematic visuals that capture viewers' attention and use storytelling techniques to keep them engaged throughout. Create unique and engaging videos that stand out. This will leave a lasting impression on your audience and give you the potential to go viral!
As you grow your channel, challenges await. Learn the latest updates and trends in the industry. Utilize analytics tools such as Google Analytics or Facebook Insights. Maximize SEO strategies on YouTube. Incorporate keywords, tags and metadata into each post. Develop signature styles for titles, graphics and more for a unique brand identity.
Promote your channel across multiple platforms including blogging sites like Medium. Generate backlinks through social media posts and connect with influencers in your niche for valuable advice. Leverage marketing campaigns for maximum reach. These are all important steps towards becoming a successful YouTube creator!
The Strategies to Become a Successful Digital Creator
Are you a freelance videographer or aspiring YouTube creator who wants to be a successful digital creator? If yes, you're not alone! With platforms like YouTube on the rise, more and more individuals are turning to digital content creation as a means to make money and build their careers online.
To become a successful digital creator, the first thing to do is to create content tailored to your target audience. Determine your target audience and find out which type of content resonates best with them using analytics tools like Google Trends and social media insights. After identifying the content that resonates best with your viewers, focus on creating unique videos that stand out from the competition by experimenting with various types of content, such as storytelling or cinematic visuals.
Once you've created unique videos for your channel, promote them across multiple online platforms, including YouTube, Instagram, Facebook, and Twitter, to reach a larger audience. Take advantage of SEO and SEM strategies along with analytical insights to optimize performance on multiple channels. You can also increase your channel's visibility potential by collaborating or interviewing with influencers and other creators in similar niches.
Finally, learn the basics of video production editing techniques, and format videos optimally for each platform to ensure that viewers watch till the end without losing interest. Stay updated with the latest platform features and optimization techniques to maximize success rates when it comes to producing viral video content! With these strategies, all that's left is hard work and dedication. So, start working towards becoming an online sensation today!
To Sum Things Up
Becoming a successful video creator is no easy feat: it requires dedication, passion, and an understanding of the latest trends. From determining your target audience and editing software to networking with mentors, there are many steps to creating viral content that can lead to YouTube success. As a freelance videographer or aspiring YouTube creator, you can use this blog post as a guide to grow your channel from amateur status to becoming an official sensation!