By Tim Wenger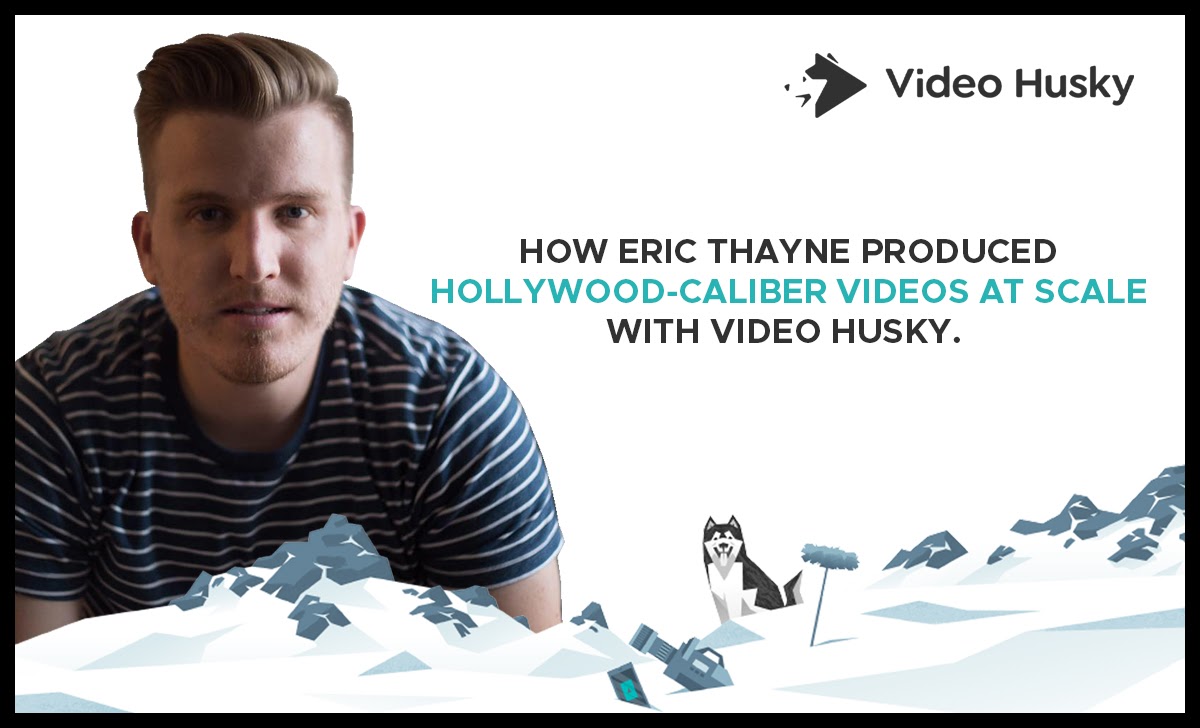 "It's like a 24-hour production studio."

Eric Thayne on Video Husky
Some people are born with a gift and Eric Thayne is one of them. He's been making videos since childhood, and by the time he was an adult, he was a self-taught filmmaker, director, and cinematographer.
"I've been entrepreneurial ever since I was a kid and always been creative and always dabbled in things like filmmaking and graphic design and art and all sorts of stuff like that," Eric says.
He put those entrepreneurial skills to use by founding Celadora Studios in 2013. His business got its start producing commercials, event videos, and other promotions such as Kickstarter campaigns. Today, Celadora is a six-figure production company that produces videos for higher-tier companies and has built a network of luxury brand clients.
Eric's next step was to scale his talent. After building Celadora into a reputable brand, he created an online course called Cinema Mastery with one single purpose: to teach a community of aspiring filmmakers how to create Hollywood-style videos.
His course took off. And outside of it, Eric was producing so much footage that he needed a hand optimizing his workflow. He'd often spend hours editing a single video — time he could have spent planning content or filming instead.
Eric wondered if there was an all-inclusive service that could edit his footage on a fast turnaround, whenever he needed it done. "I Googled unlimited video editing or something like that and then came across Video Husky," he says.
In this article, you will learn:
How Video Husky solved Eric's lack of time for editing.
Why a Philippines-based editing team optimized Eric's production schedule.
How the quality of work Video Husky did on his videos surprised Eric.
---
Do you want to create more videos without sacrificing quality? Then, consider Video Husky. We provide you access to a dedicated team of talented editors who can help.
Try us risk-free with our 30-day, action-based money-back guarantee. Click the link below to schedule a free consultation call today!
Book a free consulting call!
---
Taking Production To the Next Level
Eric's biggest problem wasn't the actual editing — he is an experienced editor and a professional content producer. Rather, it was the time it took that was his biggest pain.
"We're creating content on YouTube and everywhere else and it's just a lot of work for me," Eric says. "It takes a long time to edit the video. It was just such a time suck that we're like we got to figure something out."
One video he edited himself, an hour-long webinar, took him about 35 hours to finish.
"It's really just kind of a lot of the same thing over and over again, just putting pieces in place, finding the clip, finding the music, that kind of thing," he says of editing. "And so for me personally, it tends to be, I guess, a little bit of a drag."
In spite of the time crunch he faced in editing, his work and brand became known for its top-tier cinematography. And as such, people began asking Eric how he managed to produce such top-notch quality, time after time.
Part of His Mission Became Helping Other Filmmakers
The questions Eric received gave him the idea for his cinematography course. He knew the market was there because it was literally banging on his door — he just needed to answer.
"We saw a huge opportunity to help out other filmmakers who are on the same path," Eric says. "And so that's where Cinema Mastery came from, which is my online business where we help filmmakers create cinematic looking videos, and grow a business as a filmmaker."
Both aspiring videographers and traditional clients continued to come to Eric for guidance, and his focus became two-fold: teaching and inspiring others, and meeting his clients' needs.
But Eric Still Needed To Turn Around His Own Videos
With Cinema Mastery going strong, Eric decided to enlist help. As we noted above, Eric found Video Husky through a Google search for video editing services. At first, he was intrigued but not yet convinced.
"I wanted to get it done without too much hassle and just kind of hand it off to somebody else," he says of his initial interest in Video Husky.
As any entrepreneur should be, Eric was skeptical at first about Video Husky's ability to meet his high-quality standards. But being paired with a dedicated editor for his projects helped to alleviate some of those concerns.
"I expect really high-quality editing from anybody that's working for me," Eric says. "It's got to be good. It's got to be thoughtful. It has to flow together well. And so, it takes probably longer than most people. But I don't have time for it. That's why we were interested in Video Husky."
After his first month of service, Eric found his editor to be both timely and professional, always willing to listen but also not afraid to provide honest feedback. Eric was "pleasantly surprised" at the quality his editor delivered.
At first, Eric sent over some video ads and footage intended for YouTube, just to see what the editing team could turn around. He kept sending over raw footage and kept getting back top-quality edits. As long as Eric gave very specific guidelines, instructions, and references to model the video after, the edits always turned out well.
"He got things done really fast," Eric says of his editor. "And then when he got it done, it was always like exactly what I had described (in my request). Having things done overnight was amazing. Probably one of the best parts about it."
Scaling up Without Sacrificing Time or Quality
Because Video Husky's editors operate on the other side of the world, Eric's workday didn't stop when he checked out.
"When you're working with an editor in the Philippines, I would send footage Monday afternoon and then go to bed and wake up in the morning Tuesday to an edited video," he says. "It's like a 24-hour production studio."
Eric found his productivity at a new high. With Video Husky, he was able to post more content to YouTube and create more ads for his business while maintaining his time to work on long-term projects.
"Just knowing that whatever I wanted to do, I could get it done without too much hassle and just kind of hand it off to somebody else knowing that it would get done made my life a lot easier," Eric says. "It just kind of cleared my brain to focus more on other things."
Eric Was Happy To Work With Video Husky When He Did
Most entrepreneurs are not film people, not video people. As such, they don't need really high-quality editing. But Eric was different.
Video Husky came through and took the editing off his plate so that Eric could focus on relaunching the Cinema Mastery course and rounding out his team.
"We were able to start producing regular content and update our ads, which was really nice," Eric says.
As his business has grown, Eric has taken the time to begin developing an in-house video team that can handle the full range of production, including editing. But he is thankful he was able to outsource his editing to someone he trusted during the interim.
Video Husky was the right answer at the time. "(Video Husky) just made my life a lot easier and kind of cleared my brain to focus on other things."
Tim Wenger is a journalist and author based in Colorado. Learn more about him by visiting his website.
---
Feeling overwhelmed by having to edit your own videos? Hand your content over to Video Husky. We provide you access to a team of dedicated video editors who can deliver you peace of mind.
If you're not happy, we have a 30-day, action-based money-back guarantee. Click the button below to schedule a call to get started today!
Book a free consulting call!
---