By Elly Earls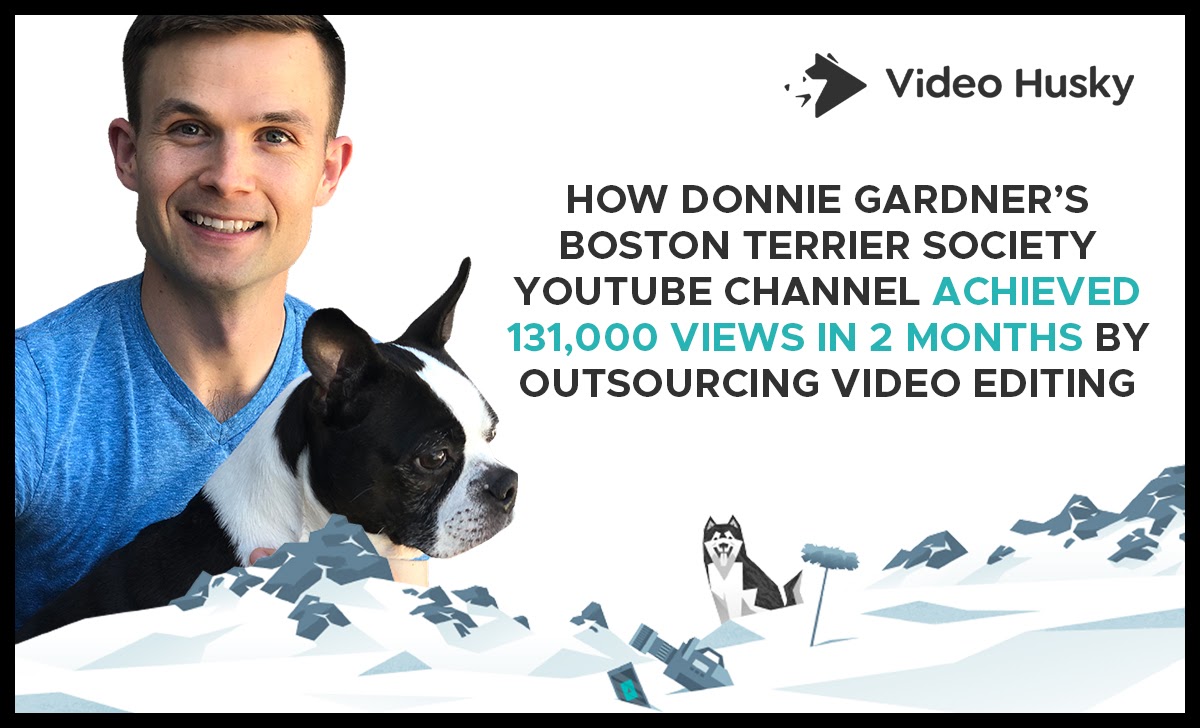 "It's kind of like I'm able to do two things at once."

Donnie Gardner
He may be new to the world of content creation but Donnie Gardner has already amassed quite a following. In early 2020, he learned that YouTube would be the best way to grow his audience fast.
Since launching his channel, his best videos help people decide if they want a Boston Terrier. But to make them, he knew his editing skills weren't good enough ("Well, they were none!" he laughed) to produce the quality of content he'd need to succeed.
In May 2020, he found Video Husky, and they've blown him away by helping him quickly build his channel.
Here are the stats:
In its first year, his channel accrued 161,000 total views, 1,700 subscribers, and 6,800 watch time hours.
But since finding Video Husky, he's nearly matched that output in less time, with 131,000 views, 1,600 subscribers, and 7,900 watch time hours.
He's even enjoyed his first viral video (5 Reasons NOT To Get A Boston Terrier) which 20,000 people had watched as of mid-July.
In this post, you'll learn how Video Husky enabled Donnie to achieve YouTube success in such a short time. We'll also share how Donnie quadrupled his video output, giving him more time to create other kinds of content. Finally, we'll cover why he recommends outsourcing to anyone who wants to level up their YouTube channel.
---
Feeling overwhelmed by having to edit your own videos? Hand your content over to Video Husky. We provide you access to a team of dedicated video editors who can deliver you peace of mind.
If you're not happy, we have a 30-day, action-based money-back guarantee. Click the link below to schedule a free consultation call today!
Book a free consulting call!
---
How Video Husky Has Boosted Donnie's Output And Improved Quality
Before Donnie discovered Video Husky, his videos were very basic. His skills ranged from trimming the start and end of each video with no signs of lower-thirds or B-Roll.
Now that he's outsourced editing, he's posting better videos with special effects and graphics. He's also gained the confidence to promote them across social media. His output has also increased because Video Husky incentivizes him to be consistent.
"Now that I'm paying someone to do the editing and it's every single month, I know I have to get a video to my project manager. Otherwise, I feel like I'm not getting the most out of the service," he said.
When he edited videos himself, Donnie could only muster to create around four videos a month. But in his first two months with Video Husky, that's shot up to 12 on average. In June 2020, he churned out 16 alone.
He's also got more time now to create other kinds of content. As a dad, he used to have to wake up at 4:45 am to write articles for his website and edit his videos. Now he can just send his footage off to Video Husky.
"It's kind of like I'm able to do two things at once," he grinned.
How Video Husky Has Exceeded Donnie's Expectations
When Donnie first decided to try Video Husky, his expectations were low. He'd used a similar service before. But they disappointed him with their lack of communication and slow turnaround times.
"They'd promise delivery within 48 hours but I'd get to the 49-hour mark and I still hadn't heard anything," Donnie recalled.
With Video Husky, it's a completely different story. The project manager and editor give him constant updates about the status of his videos. Every workday, he gets a note saying, "Hey, we're working on this, you can expect it tomorrow" or "This is done".
He also appreciates that his editor works on his videos overnight.
"As long as I send them a video at 3 pm my time here, Central Standard Time, I can normally have the video back the next morning and post it," he explained.
By producing such a large volume of content, it only took his editor about three weeks to get used to Donnie's style. Now he only asks for revisions on about one out of every four videos, which are usually very minor. He credits this to the detailed feedback he gives his editor since they started working together.
"It's something I'd highly recommend other people to do because it helps the editor and you get what you want," he stressed.
Level Up Your YouTube Channel By Working With a Video Editor
Donnie encourages anybody seeking to succeed fast on YouTube to hand off the editing to Video Husky.
"The more videos you put out, the faster your YouTube channel is going to grow," he said. "Trying to figure out the whole editing process yourself could take you years to develop just in and of itself."
Plus, once you have one viral video, the sky's the limit, as Donnie has discovered.
"It really allows you to achieve compound growth."
---
Struggling to create consistent video content for YouTube and other social platforms? Video Husky provides you access to a dedicated team of talented editors who can help you get on track.
Try us risk-free with our 30-day, action-based money-back guarantee. Click the button below to schedule a call to get started today!
Book a free consulting call!
---