By Elly Earls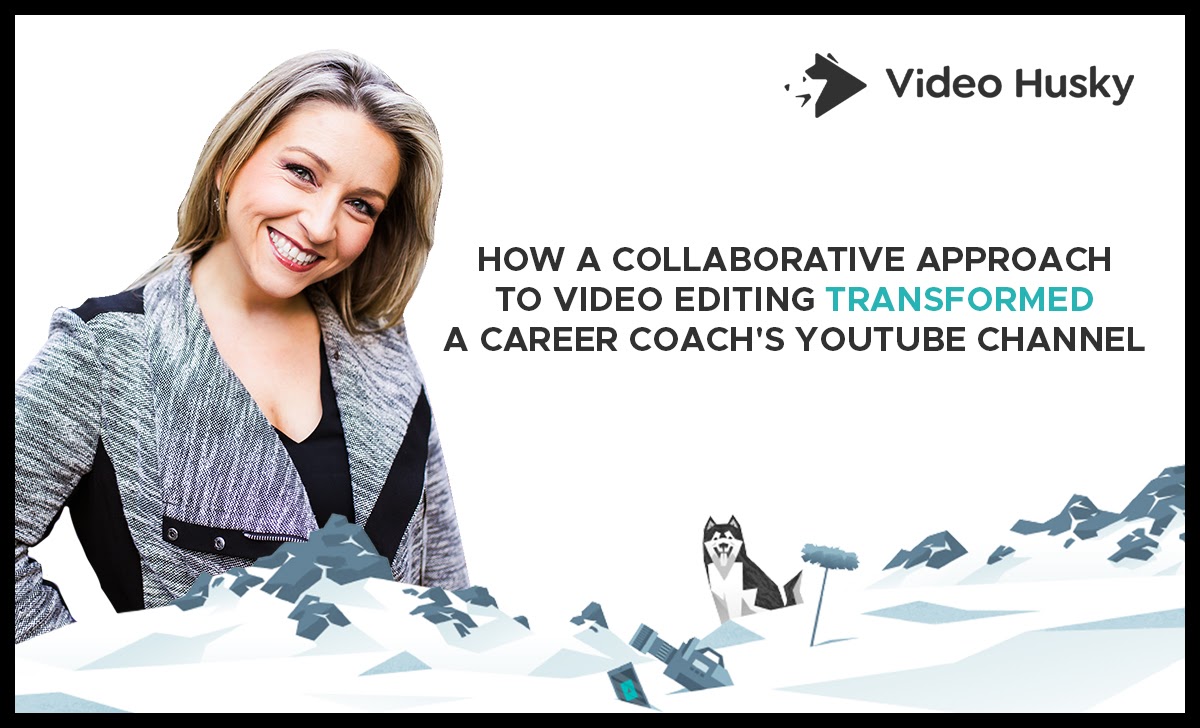 "It's just nice to know you're talking to another human being who's trying to get you…"

Cassandra Thompson
Cassandra Thompson is a career coach who started her YouTube channel three years ago. Since then, it's grown it to an impressive 51.3k subscribers. Made up mostly of talking-head videos, her followers can learn everything from how to make an awesome LinkedIn profile to the best way to prepare for a job interview.
Since she started getting serious about her YouTube presence two years ago, Cassandra has wanted to improve the quality of her videos. But the hours it would have taken for her to learn how to do so didn't feel worth her time.
"I don't have it in me to care about all the little details," she said. "I'd love to put in a joke or zoom in but I just wasn't good at any of that and when I did start to play around with sounds or sound effects, I'd get lost in that rabbit hole of choice. At the same time, I could also see the value in getting my videos to look better."
After struggling with a freelancer, a friend recommended that she try Video Husky. Cassandra hasn't looked back since.
In this article, you'll learn:
How Video Husky helped Cassandra create better quality videos, resulting in a roughly 20% increase in watch time
How working with a video editor who is able to offer creative input allows her to get ahead.
Why Cassandra loves the collaborative nature of the partnership with Video Husky.
Struggling to create consistent video content for YouTube and other social platforms? Video Husky provides you access to a dedicated team of talented editors who can help you get on track. Try us risk-free with our 30-day, action-based money-back guarantee. Click the button to take a short quiz and find out if Video Husky is right for you.
Take the Quiz
What Video Husky Did to Improve Cassandra's Videos
Before she started working with Video Husky, Cassandra's editing style was very basic. Sometimes, she'd add titles or lower thirds but effects weren't her wheelhouse of expertise. "I knew if I wanted to level up, I needed an editor," she said.
Cassandra generates between eight and 16 videos per month. While that output hasn't changed since signing up with Video Husky, the quality has, particularly when it comes to pacing, music, and clean transitions.
"It looks like the same amount being produced but the quality is so much higher and has saved me so much time," Cassandra said. "I would never have been able to get them to that quality. It just wouldn't have happened."
She credits much of the transformation to her editor's willingness to take initiative, in stark contrast to the freelancer she'd outsourced to, who would take her directions literally and not exercise any real creative freedom.
For example, her Video Husky editor is happy to find appropriate B-Roll and music for her and recommend how to make her videos better. There's back and forth and trial and error and Cassandra is happy to make adjustments based on the feedback she gets from her editor.
"It has been really helpful because it's just nice to know you're talking to another human being who's trying to get you," she said. "I know a lot of people are really particular and want to control every little thing, but I'm at the opposite end. I don't have time to sit here and give you examples of every little thing. I want you to be creative and go and do – and it's really worked out!"
Cassandra's Watch Time Increases By 20%
Watch time is an important metric for YouTube creators. The longer people watch your videos, the more likely YouTube will recommend them to users.
Before working with Video Husky, most people watched Cassandra's videos for about four minutes. Even though the coronavirus pandemic had a negative impact on job search content, this has increased to over 5 minutes today.
How Cassandra Gets the Most of Video Husky
While Cassandra values her editor's creativity and initiative, she's also aware of her responsibility to provide guidance. At the beginning of their partnership, she made sure to share plenty of sample videos for inspiration and made the effort to explain why she liked them.
"I love the fact that it then became a little more personal and relational," she said. "Working with your editors is as much a collaboration as the creator wants it to be."
Overall, she's been pleasantly surprised at how the relationship with her editor has developed. "At this point, she knows a lot of what I like and what I don't. Our videos get turned around really, really fast, which means I can get ahead a lot quicker."
Elly Earls is a freelance writer from the UK. Learn more about her by visiting her website.
Are you a content creator that doesn't have enough time to clear your backlog of unedited footage? Video Husky can help. We provide you access to a team of dedicated editors who can get your content creation process back on track. Try us risk-free with our 30-day, action-based money-back guarantee. Click the button to take a short quiz and find out if Video Husky is right for you.
Take the Quiz